Selected Letters of Sergei Prokofiev (translator and editor)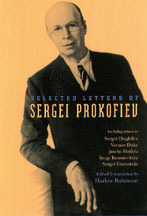 SELECTED LETTERS OF SERGEI PROKOFIEV
348 pages

Edited by Harlow Robinson
notes/index
1998 ISBN 1555533477 * $45.00 cloth

Description:
One of the most important and influential composers of the twentieth century, Sergei Prokofiev (1891-1953) was also a prolific and gifted writer. Besides producing diaries, short stories, dramas, reviews, and the libretti for his own operas, Prokofiev conducted lively and frequent correspondence with family friends, classmates, and notable cultural figures in the Soviet Union and abroad.

This engaging volume collects for the first time in English the most representative and enlightening of Prokofiev's letters, including some previously suppressed missives that have never before been published. Expertly translated and annotated by Harlow Robinson, the correspondence presented here covers Prokofiev's earliest years at St. Petersburg Conservatory, his extensive worldwide travels, and his return to Moscow. Among the correspondents are childhood friend Vera Alpers, harpist Eleonora Damskaya, ballet impresario Sergei Diaghilev, theatrical director Vsevolod Meyerhold, Soviet critic Boris Asafiev, composers Vernon Duke and Nikolai Miaskovsky, soprano Nina Koshetz, musicologist Nicolas Slonimsky, violinist Jascha Heifetz, conductor Serge Koussevitsky, and film director Sergei Eisenstein.

Prokofiev vividly describes, often with dramatic flair and a quirky sense of humor, concerts, performances, his compositions, political events, and meetings with other musicians and composers. His observations are peppered with musical gossip as well as eccentric, original, and disarmingly apolitical insights. Like his music, the writing style is laconic, brisk and tart, full of energy.

Taken together, the letters provide a cultural and musical history unequaled in the correspondence of any other modern composer. This indispensable edition will shed new light on Prokofiev's misunderstood life and career, illuminate his creative processes and aesthetic principles, and introduce his exceptional literary talents to those already captivated by his musical genius.

Harlow Robinson is Chair of the Department of Modern Languages at Northeastern University. An accomplished pianist, violinist, and singer, he is the author of Sergei Prokofiev: A Biography and The Last Impresario: The Life, Times, and Legacy of Sol Hurok. He is a regular contributor to the New York Times, Opera News, Dance Magazine, the Los Angeles Times, and National Public Radio's Performance Today. He lives in Boston.